The Brake Room

Mission
Are you a student and want to learn how to repair or maintain your bike for free? Learn to work on your own bike in our fully-equipped workshop, the first bike repair workshop on campus for MSU Bikes. You'll learn how to repair your bike from our experienced staff, who work for MSU. The Brake Room is also a place to just come and hangout with other people who share a passion for sustainable non-motorized transportation!
However, you MUST let us know that you're coming as there is limited workshop space and staffing capacity.


What's There
There are two work benches, two double-workstands (to work on up to 4 bikes at a time) with a great selection of bike repair tools available on a first-come-first-served basis.





How To Sign Up
Email or call 517-432-3400 during our Bikes Svc. Center hours to make a reservation to hold a time slot. Note that if we have no one signed up for the session we may not open the shop.


Faculty or staff?
You're welcome too! There is a $5 per visit fee or $100 for a calendar year-long membership. Please pre-pay at the Bikes Svc. Center.


Need Parts?
While in the future we plan to stock a small supply of common parts for purchase in the Brake Room, if you know you need some parts or accessory that you plan to install please bring them with you.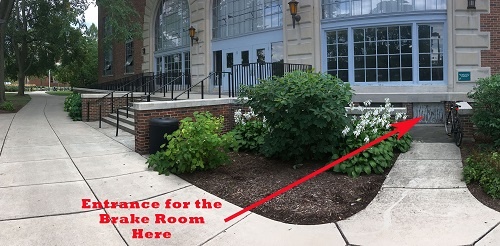 Location:
Basement of Demonstration Hall (click here for a map); enter via the stairs under the north side main entrance of the building. (If the door is locked our staff hasn't arrived yet.) See this photo for a good idea of where to enter.


Hours:
Check our Facebook.